CIC is proud to be the main partner of the 2022 UCI BMX, MTB and World Track Championships taking place in France. CIC has been involved with the French Cycling Federation for several years and supports clubs, and licence holders through dedicated offers and services. It also supports many races through its regional branches.
In addition to sporting events, CIC supports regular cycling as a major social benefit for health and the environment.

Website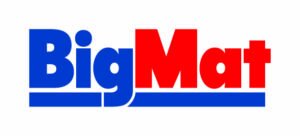 BigMat is Europe's leading distributor of building materials and products for renovation and construction, with 904 sales outlets in 7 European countries. For nearly 40 years, BigMat has united its members around shared values: independence, excellence, solidarity and conviviality. Thanks to its wide geographical coverage, the BigMat cooperative policy of innovative and local services supports projects for all its customers, whether professionals or individuals. Technical expertise and advice, careful selection of materials, training… BigMat's employees are involved with all builders at every stage of a project, from the initial foundations to the final decorations.
A major player in the housing sector, BigMat Belgium has 307 sales outlets, 3,000 employees and, in 2021, a turnover of 1.15 billion euros (excluding VAT). BigMat is also active in Belgium, the Czech Republic and Slovakia.
In addition to sporting events, CIC supports regular cycling as a major social benefit for health and the environment.

Website

Healthy, ecologically sound drinks to share.
SMART GOOD THINGS are a range of nomadic drink mixes with original, ultra-innovative and enjoyable flavours, which consider your well-being, respect the environment and are great to share.
A wide range of products to quench your thirst, with subtle, original or classic flavours for all tastes, and which you can take with you wherever you go .
We donate 25% of our net turnover from our 'sharing products' to support social causes and commitments.

Website

Cycling is one of the sports that Tissot has been most involved in, as it has been associated with various cycling events for the past 50 years. 
Proud of its Swiss roots, Tissot first got involved with the UCI in 1995. Tissot became the first "UCI World Cycling Partner" in the history of the UCI in 2017. In that capacity, Tissot remains the exclusive Official Timekeeper of the UCI for the totality of its events and disciplines.
Tissot will provide its timing services for all of the World Championships of the UCI's Olympic disciplines (road, track, mountain bike and BMX) as well as for all of the legs of the UCI Track World Cup and any future attempts at the UCI Hour Record.

Promoting health and happiness through the enjoyment of nature and the world around us.
Throughout the last century Shimano has established itself as the world's leading manufacturer of bicycle components thanks to its record of outstanding innovation and product reliability. The functionality and quality of Shimano products is widely recognized by consumers, bicycle shop mechanics and manufacturers alike.
Shimano's founded Shozaburo Shimano set up the Shimano Iron Works in 1921 to produce bicycle freewheels. Within a decade Shimano was producing 30,000 single-speed freewheels a year, going from strength to strength ever since.
In recent times demand for bicycles has surged as consumers look to combat health concerns, environmental matters and transportation issues, as well as achieving sporting success or fitness goals. Shimano is dedicated to supplying high-quality and high-performance components to all bicycle users across the world, covering everyone from the world's top bicycle racers to daily bicycle users.

Website

After 20 years of professional racing in multiple international BMX and mountain bike events, Toby Henderson founded Box Components to chart new courses and promote forward-thinking products.
Box's Southern California racing heritage is an inseparable component of the company's DNA and it's ultimately this trait that defines its unique sense of style.
These characteristics together with the brand's three promises – to be race inspired, to create efficiently designed components and to connect man and machine – not only benefit UCI World Championships winners but also enthusiasts from all walks of life, regardless of their riding ability.

Website

Pro Gate has been the Official Gate provider to all UCI BMX Racing World Cups and UCI BMX Racing World Championships since 2004.
Their start gate systems are highly secure and trustworthy. Pro Gate plays an important role in developing the discipline of BMX racing through a number of youth-oriented activities year round.
They actively support the UCI World Cycling Centre, providing equipment to the next generation of champions.

CUSTOM RACING, textile made in France
With more than 10 years' experience in the production of BMX, ATV and Motocross jerseys, the French manufacturer Custom Racing control their entire production chain to ensure impeccable quality. This also allows the brand to produce in an extremely short time.
The Custom Racing team also accompany their customers in the personalization of club outfits, and with all printed materials such as tents, pennants, panels, and banners.
Custom Racing and its equipment brand, Lead Racewear, produce all the official textiles for the 2022 UCI BMX Racing World Championships, and the outfits for all the volunteers present throughout the event. 

website